Pope Benedict: people at the centre of the web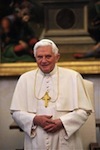 According to the Repubblica newspaper, the head of the Catholic Church has been arguing today for the centrality of the person on the web. We agree, but are surprised that this man who is in charge of an institution with some serious difficulties, now calls on the media to be driven by truth and goodness.
[My translation] "VATICAN CITY – Digital information is a great opportunity, also for evangelisation, but it can become a tool 'of homogenisation and control, of intellectual and moral relativism' if the centrality of and the respect for the person is lost. That's what Benedict XVI said today at the Vatican to the participants of the "Digital Testimonials" conference, organised by the Italian Episcopal Conference CEI. […]. The media have to be driven by the search of truth and the good. All commmunication professionals should be tirelessly driven by the passion of man."
Read article (in Italian)
And here is the English version, which is more mildly worded.