Prisma kitchen at Eurocucina 2012
A high-tech kitchen and an instant classic, designed by Experientia, for Toncelli kitchens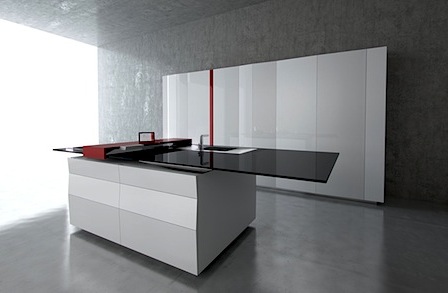 Minimalist design in a high-tech kitchen
Experientia is taking part in the Salone del Mobile in Milan this year, with its brand new kitchen design, the Prisma, designed for Tuscan company Toncelli Kitchens.
Introduced by Toncelli as the "futuristic jewel" in its Eurocucina 2012 collection, the Prisma is a stylistic departure from Toncelli's other kitchens, where the emphasis is on prestigious materials and traditional workmanship.
The Prisma is conceived as an entry-level luxury kitchen, which combines elegant prismatic shapes, gleaming surfaces, and minimalist styling with the latest in touch-screen technology.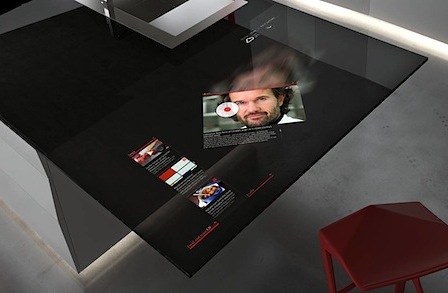 Interactive workbench with internet connection and touch-screen technology by Samsung Electronics
While the Prisma also sports a stand for a personal tablet computer, the more high-tech element is the Samsung-driven touch screen table, integrated right into the black glass bench. Cooks will be able to use the internet connection to update chosen contents from a programmed menu. Designed for tech savvy home chefs, the Prisma kitchen picks up on the trend of tablet computers migrating to the kitchen, and then takes that idea to the next level.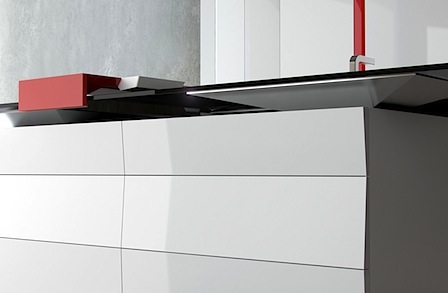 The prismatic compositions of the drawers and sink are illuminated from below, and give a dynamic, light feel to the kitchen
The minimalist design fits well with the high tech elements of the kitchen – red and white lacquered surfaces, anodized aluminium and black glass create a contemporary and dynamic feel. The prismatic composition, from the drawers in the island bench, to the sink which supports the bench top, gives the kitchen a feeling of weightlessness and light. The red, raised chopping board can actually slide along the island bench to any desired position, and provides an accent of colour in the otherwise black and white kitchen.
The minimalist feel is heightened by the use of easy-open, invisible handles on the drawers, cupboards and refrigerator. These were created by Experientia designers, working together with Toncelli's engineers, and are so far exclusive to the Prisma.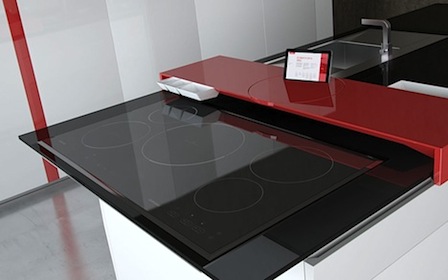 The red chopping board slides along the island, and has a stand for a tablet computer
The Prisma kitchen will be on display at Eurocucina 2012, as part of the Salone Milan, along with five other Toncelli kitchens. While a display of the Prisma will be visible to all the Salone visitors, guests must register on the Toncelli website for a guided tour of all the kitchens, tracing a linear time-line from the kitchens inspired by the past through to Prisma, a futuristic jewel, and, Toncelli hopes, an instant classic.