Report outlines future of UK social design research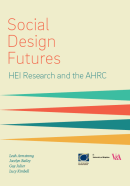 Social Design Futures: HEI Research and the AHRC
By Armstrong, Leah, Jocelyn Bailey, Guy Julier, Lucy Kimbell
University of Brighton and Victoria and Albert Museum
October 2014, 84 pages
The UK's Arts and Humanities Research Council (AHRC) has just published a report exploring social design research in the UK.
The report scrutinises the future of social design research at a time when its relevance is growing rapidly as a result of policy shifts towards more open government structures and increased visibility of strategic design thinking and social innovation, and a wider context of economic austerity and digital revolution.
Current and ongoing interest in social design means the field is at a critical point. This 'social design moment' presents opportunities for researchers in design and related areas. However, in order to take full advantage of these opportunities, and to support the development of social design research, some challenges must be addressed.