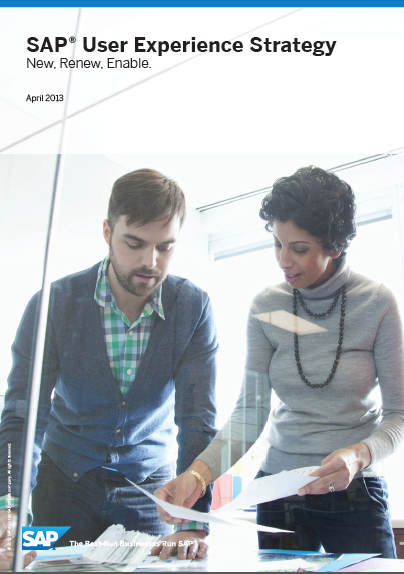 SAP customers are increasingly telling the company that user experience (UX) is the differentiator, not features and functions, starts the introduction to SAP's new UX strategy.
"With [its] large product portfolio, any SAP UX strategy cannot be a "boil the ocean" approach; it has to target the areas that will have the biggest impact. So, instead of closing themselves off in a meeting room with like-minded colleagues, SAP user experience and product leads invited customers to tackle the challenge together as one team.

Driven by SAP's Sam Yen, Andreas Hauser, Gerrit Kotze, Nis Boy Naeve, Jörg Rosbach, and Volker Zimmermann, these were not high-level-sit-around-a-long-table-sipping-mineral-water meetings. Instead, all participants rolled up their shirtsleeves, got out markers and post-its, brainstormed, exchanged, debated, and analyzed. The workshops and iterations started in the spring of 2012 and concluded several months ago in Walldorf."
Based on [this] feedback from customers and trends in the IT industry, SAP defined a clear user experience strategy that incorporates [their] aspiration, vision, and mission for user experience.
"Reflecting IT trends and user expectations, we have distilled our strategy into the following design directions:
– Solve the right problem the right way
– Design for the mobile mind-set
– Give the user one entry point
– Provide coherence for common activities
– Know and show the user context
– Provide brand coherence
– Integrate data meaningfully
– Enable adaptation and personalization
– Deploy to users in one day

By 2015, SAP will make superior user experience and design an integral part of the SAP brand experience – just as the SAP HANA platform has reconfirmed SAP's reputation for innovation.

A key consideration in improving the user experience of SAP applications was how to include existing applications, which already
deliver consumer-grade experience, while embracing such new technologies as mobile and cloud. SAP decided to focus on three areas for applications:

Provide consumer-grade UX for new applications
Renew existing applications by improving the UX of software supporting the most commonly-used business scenarios
Enable customers to improve the UX of the SAP software they use to perform their own mission-critical business scenarios

Over time, the percentage of new and renewed applications representing SAP software will increase to significantly augment the overall usability of SAP business solutions."
Also check out SAP Fiori, a collection of apps with a simple and easy to use experience for broadly and frequently used SAP software functions that work seamlessly across devices – desktop, tablet, or smartphone, and according to SAP "a major step forward in executing on the "renew" pillar of the strategy."