Service design at BBVA bank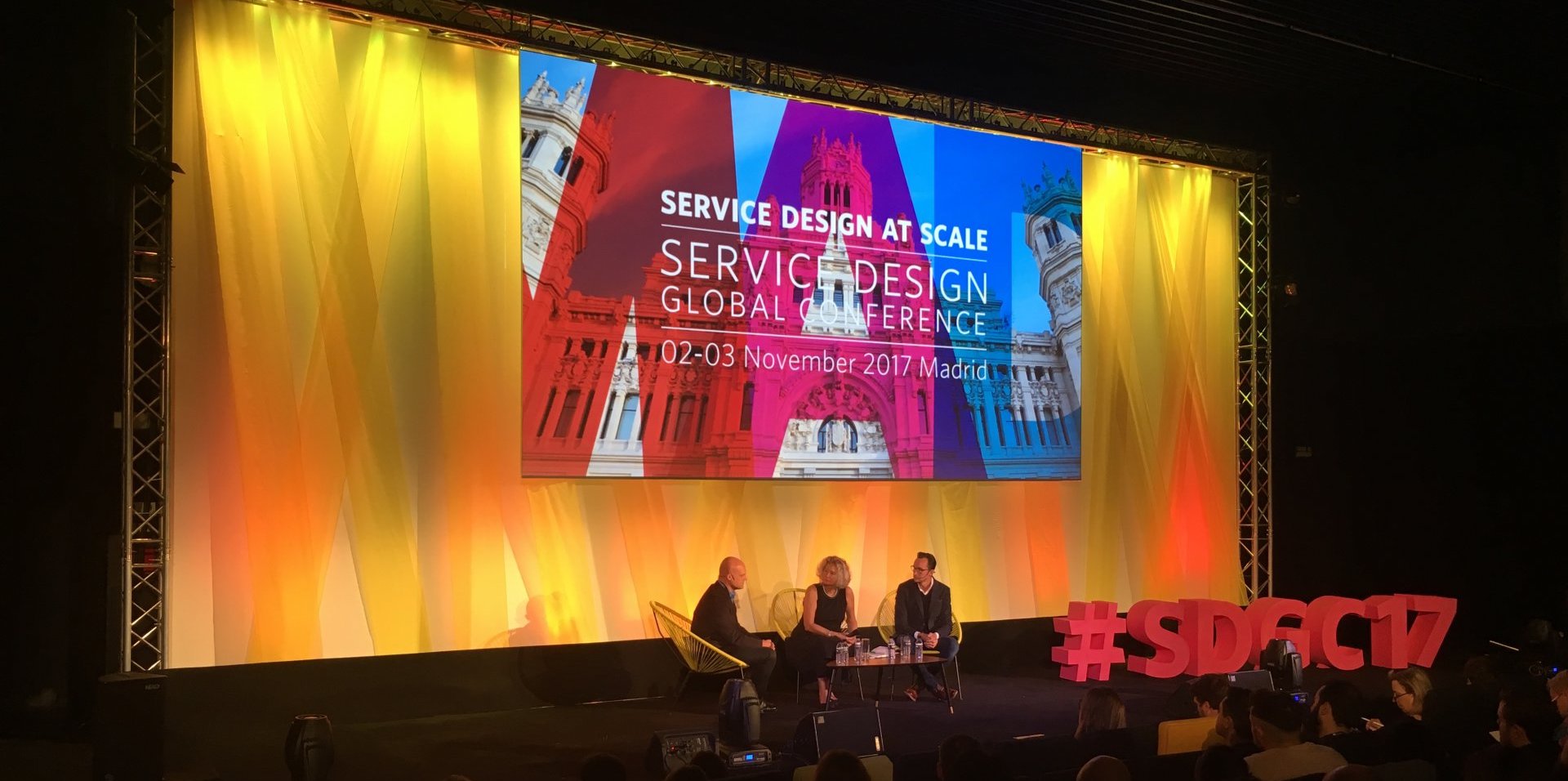 BBVA (an international financial institution with a presence in 35 countries, providing services to 70 million customers) was one of the sponsors of the Service Design Global Conference in Madrid last week. Derek White, BBVA's Global Head of Customer and Client Solutions, and Rob Brown, Head of Marketing, Design and Responsible Business – both Americans – were interviewed by SDN president Birgit Mager in a public panel discussion on how service design is integrated in its practices and services (see summary).
BBVA's design efforts are well-known and have recently undergone an acceleration with the hiring of Derek White, formerly Barclays' design & digital chief, and Rob Brown also of Barclays. BBVA has been investing heavily in design and design-driven fintech companies. In 2015, it acquisition">acquired Spring Studio, a U.S.-based user experience and design firm. In 2014, the bank bought U.S. mobile-banking startup Simple. In November 2016, BBVA acquired a 30% stake in new British online lender Atom Bank.
The bank's English-language website contains a wealth of articles on UX and service design and we picked a few:
Designing for customer delight
Chris Semple – 3 November 2017
One of the recurrent themes at this year's BBVA Open Summit was the importance of customer centricity. A great example of this was the panel session featuring BBVA's Global Head of Marketing, Design and Responsible Business, Rob Brown and 11:FS Co-Founder Jason Bates.
UX and banking: designing for the future
15 September 2017
The financial sector has undergone tremendous change in the past few years thanks to the adoption of emerging technologies such as the smartphone.
Now it is on an even bigger precipice of change as advanced technologies such as artificial intelligence move from science fiction to a reality. Banks now know more about their customers behaviors, needs, and what motivates them than ever before.
Searching for "touchpoints", a job for design detectives
Montse Guiu – 4 July 2017
The BBVA Innovation Centre hosts a new edition of "Design Wednesday". In it, experts address the role of design in customer interactions with products and services.
"Design should be relevant in a large organization"
Montse Guiu – 23 June 2017
That's the mission of Rob Brown, head of Marketing, Design and Responsible Business at BBVA. He shared it with the attendees at the IV Edition of Experience Fighters, one of the most important User Experience (UX) & Innovation meetings in Spain.
Design makes its mark in BBVA
Montse Guiu – 2 June 2017
BBVA has made design a strategic function within the organization. Digital banking and the development of latest-generation digital products and services have made financial services evolve towards a new model – one that is closer, more humane and focused on the customer.