State of Interaction Design: Diverging, by David Malouf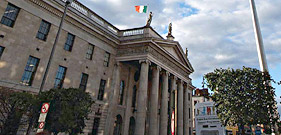 In anticipation of the upcoming IxDA Interaction12 Conference taking place in Dublin, Ireland February 1–4, Core77 is bringing us a preview of this year's event, including this guest post by David Malouf, professor of Interaction Design in the Industrial Design Department at the Savannah College of Art and Design.
"In the last year IxD, as a community of practice, has faced its strongest challenge to date. We have shifted from converging and assimilating to a community that is ever rapidly diverging.

The divergence is happening along the lines of the gravitational interests from where interaction design was born or where the slippery slope of our primary interest takes us. The divergence is also because the level of complexity of our problem sets have grown so vast that no single group can or should keep track of all of it. We have split basically along our primary lines of interest: Engineering, Individuals (psychology), Culture (anthropology) and Art."
Note that Experientia partner Jan-Christoph Zoels will be attending Interaction12 as well.