Study: people with access to power meter data reduce energy use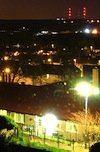 The simplest way to cut down on energy use isn't to build millions of brand-new LEED-certified buildings; it's to convince people to make changes themselves. And sometimes, having access to energy consumption data–and a friendly nudge to compete with neighbors–is enough to get people to do just that.
According to the Behavior and Energy Savings study by the Environmental Defense Fund and energy-management software company OPower, Americans who get better power meter data (from both regular and smart meters) cut energy consumption by an average of 1.8% in the first year.