Talking Design with Dan Hill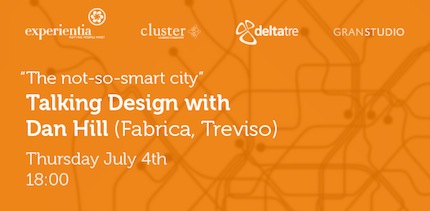 We are pleased to invite you to the second in the "Talking Design" lecture series with Dan Hill, CEO of Fabrica.
On Thursday July 4th, designer and urbanist Dan Hill will speak about smart citizens, in his talk "The not-so-smart city".
Talking Design lecture series
The "Talking Design" guest speaker evenings are part of our drive to bring the design world to Turin, by hosting a series of talks from global experts in the industry, to share their experience and knowledge with our friends in Turin. Initiated by Experientia, the initiative is now supported by four forward-looking Turin entities who together select the speakers, organize the logistics, and promote the event to our network: Cluster, Deltatre, Experientia and GranStudio.
Following the success of the first lecture, with Todd Harple, anthropologist and experience engineer at Intel, we have planned this July lecture, and one for the beginning of September. All lectures are in English. They will be video recorded and posted online (where possible).
Dan Hill, CEO of Fabrica
Dan Hill is CEO of Fabrica, a communications research center and transdisciplinary studio based in Treviso, Italy. A designer and urbanist, he was previously strategic design lead for Sitra, the Finnish Innovation Fund, exploring how design might enable positive systemic change throughout society. Prior to Sitra, Dan was Arup's Foresight and Innovation leader for the Australasian region, as well as their lead on urban informatics and urban strategy. Before that, he had leadership positions at Monocle and the BBC. Dan writes the well-known blog "City of Sound", and contributes regularly to "Domus" Magazine, where he is also Strategic Design Advisor.
We hope you'll join us in this exciting new initiative to bring the design world to Turin. We are looking forward to seeing you.
The Talking Design Team
Date: Thursday, July 4, 2013
Time: 6pm
Location: Cluster, Via della Basilica 13, 10122 Torino
RSVP: Silvana Rosso, +39 011 812 9687