Technology-enabled navigation and mobility for people with sight loss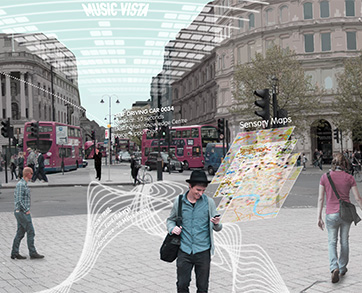 Getting around cities is a nerve-wracking experience for too many people, especially those living with sight loss. Too often it feels like public spaces and services – from parks to transport systems – are designed with insufficient consideration for the people they serve.
Cities Unlocked was created to help fix this. Guide Dogs, a UK Charity for the visually impaired, and Microsoft joined forces in 2011 to improve mobility and navigation for people with sight loss, and Future Cities Catapult, a global urban innovation centre, followed in 2013. Over the last year, the team has been working towards realising one ambition: to make cities more accessible for people with sight loss.
They have taken a holistic approach to identifying the challenges that urban environments pose for the visually impaired, and developed a demonstrator device in response. The result is a new headset (video) that allows a smartphone app to provide the wearer with 3D-soundscapes, augmenting reality to provide a richer understanding of their surroundings.
Testing demonstrated that the technology helps people feel more comfortable in their surroundings and better placed to navigate their environment. But this is just the start: the team believe that this research provides a new way of thinking about people, places and the information that flows between the two. By opening the flow of data within cities, we can help everyone move around their city with confidence.
More information:
> Blog post/essay by Dan Hill, executive director of Futures and Best Practice, Future Cities Catapult
> Articles and videos: BBC | Daily Telegraph | Dezeen | CityMetric | The Guardian