The age of data sharing (report)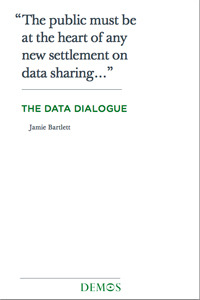 We live in an age of sharing. As consumers and online, we regularly share personal information, and generate new data through our browsing or purchasing history. Businesses and government are increasingly aware of the value of this information, which can result in better and cheaper services for customers, new sources of income for businesses and improved public services. But the question of who owns this information, and how it is collected, stored and used, is becoming a major consumer rights issue. It is crucial, therefore, that people are at the heart of any new settlement.
The Data Dialogue report (80 pages), released today by Demos UK, sets out the results of the largest ever poll of public attitudes on personal information and data-sharing. Based on a representative sample of 5,000 adults, the report finds a growing crisis in consumer confidence over how government and business handle personal data, and discomfort about the way in which personal information and data are currently being used.
The report argues that this loss of confidence could have a knock-on effect on the economy and on the quality of services available to consumers. However, it also finds that views about sharing change when people are given more control and choice about what data is shared, and when the benefit of sharing that data is made clear to them. It therefore suggests that consumers should be engaged in an honest dialogue about how data are collected and used, and be given meaningful choice and control over the information they share. That will be good for business and consumers alike.