The (limited) power of good intentions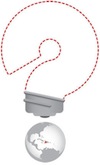 Socially responsible design, writes Julie Lasky in Metropolis Magazine, is a whole lot harder than it looks.
"While nearly all of this work is well-intentioned, almost none of it amounts to anything concrete," points out a magazine editor I know, who may be dazed by the number of do-gooder projects pouring into his inbox. "Why is there such a disconnect between the countless schemes of these designers and … well, to put it bluntly, real results? What has to happen to get the ratio of good intentions to completed projects to a more game-changing one?"

The roots to these answers are deep and hairy. They depend on the Jesuitical parsing of words like success, which can be defined quite differently depending on whose perspective you're considering: designer, funder, recipient. Even design takes on semantic complexity in the social-change arena. "Half of success is determined before anybody picks up a pencil to sketch," says Mariana Amatullo, director of Designmatters, a department of Art Center College of Design that undertakes social-change initiatives. She's referring to the network of relationships that must be built for projects launched from outside a community to have a hope in hell.