The New York Times "introducing" the usability professional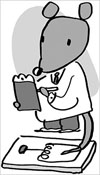 The New York Times published an article today by Barbara Whitacker describing what the work of the usability and experience design professional entails.
The article is part of the newspaper's Fresh Starts series, "a monthly column about emerging jobs and job trends". Unfortunately, it conveys a very conventional and traditional HCI-like interpretation of usability and doesn't reflect much of the current state of affairs in the field, as was correctly pointed out by Dan Saffer of Adaptive Path.
Technology's Untanglers: They Make It Really Work
The work of usability professionals, who bridge the gap between the makers and users of a product, has recently developed into a solid career track.

SOMETIMES there is a huge disconnect between the people who make a product and the people who use it. The creator of a Web site may assume too much knowledge on the part of users, leading to confusion. Software designers may not anticipate user behavior that can unintentionally destroy an entire database. Manufacturers can make equipment that inadvertently increases the likelihood of repetitive stress injuries.

Enter the usability professional, whose work has recently developed into a solid career track, driven mostly by advancements in technology.

Jobs in the usability industry are varied, as are the backgrounds of the people who hold them. The work can involve testing products in a laboratory, watching people use products in the field or developing testing methods.
The article features four professionals, none of whom are particularly dominant voices in the current usability and experience design discourse: Janice Redish, "a usability consultant specializing in Web sites and software interfaces", Eric Danas, who "leads a user experience team [at Microsoft] that examines how to make software more accessible", Mary LaLomia, "a product manager who specializes in usability at Philips Medical Systems", and Harvinder Singh, president of Bestica, who says that he is "having a lot of trouble finding user-experienced [sic] people".
Read full story
(republished in International Herald Tribune)