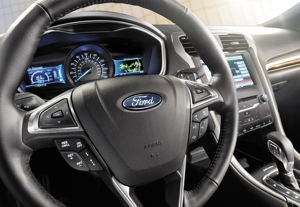 In response to the recent explosion in UX, Ford Motor Company has hired folks like Parrish Hanna and Chris Thibodeau — Global Director of Human-Machine Interface and Executive Manager of Global Product Planning for User Interface, Connectivity, and Infotainment respectively — to react and reshape Ford's user experience.
Hanna's past was non-automotive having spent years in the connected world with Motorola. "I came from consumer electronics and telecommunications, where you are always looking for a captive space in which to work, like a kitchen or living room. Automotive has that captive space, which makes a big difference. The challenge is to help the user with other elements such as dealing with comfort, efficiency, interactions like navigation, making a call, listening to music, etc. layered in a single space and controlled in multiple dimensions, not to mention adjusting things like momentum and braking. A great blend of physical and digital design challenges."
Thibodeau, on the other hand, comes from a long history of automotive product development (Visteon, GM) with teams including user experience designers and researchers. "It takes a two-prong approach to plan and design effectively. Silo engineering is not the way to get great user experiences. Parrish and I help and strive to bring a cross-functional mindset."
Steve Tengler recently had an opportunity to sit down with both of them and inquire about Ford's new direction for user experience and the next generation of human-machine interfaces.