User-centred design of the bridge of sea ships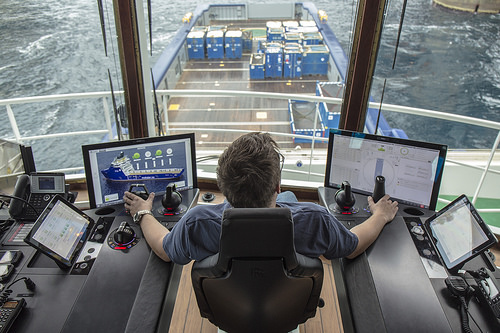 The Rolls-Royce Unified Bridge Design has won this year's Ergonomics Design Award, presented by the UK Chartered Institute of Ergonomics & Human Factors. The award recognises industrial design which puts the customer at the heart of the process using their views to generate ideas, develop concepts and test prototypes and finished products.
The Unified Bridge is a complete redesign of the ship bridge environment, including consoles, levers and software interfaces, done using a user-centred design process resulting in a more comfortable, clutter-free and ultimately more safe and efficient working environment.
Interviews with operators and visits to several different types of vessels, as well as on board observations of real life platform supply operations in the North Sea, were carried out in order to understand the work environment and gain insight into life at sea. Realistic simulations in a virtual environment were carried out at Rolls-Royce's Training and Technology Centre in Aalesund, Norway to investigate operator interaction with equipment, identifying which functions were vital and which could be removed or merged in order to improve operator performance.
The results of this research informed the development of the bridge consoles. Several different prototype iterations of bridge consoles were developed, starting with the use of basic components such as cardboard and sticky notes before moving to polystyrene models and then a full-scale plastic replica which was unveiled at the Nor-Shipping convention in Oslo in May 2011. User feedback based on the plastic prototype was important in the development of prototype consoles.