World Usability Day on 3 November 2005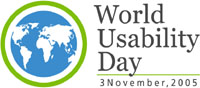 The
Usability Professional Association
(or UPA, of which I am a member) organises on 3 November 2005 its
World Usability Day
(WUD) with events in 77 cities and 33 countries.
The activities revolve around the common theme – "Making it easy – World Usability Day", with a focus this year on e-government, while also including e-commerce and other commercial applications.
My Experientia business partner, Michele Visciola, who is the president of the UPA-Italy chapter and also a member of the editorial board of UPA's User Experience Magazine, has organised the World Usability Day events in Rome, Italy.
The Rome conference/happening, which is also aimed at a non-specialised audience, is sponsored by Experientia and will be hosted by the Italian Ministry of Communications. It focuses on the reality of those who practice usability in major companies, on the usability of interfaces of online public services, on the communication with non-Italians, on the relation between usability and accessibility, and finally on wireless public services.
More up-to-date information and registration details can be found on Experientia's English WUD blog and on the Italian usability site www.webusabile.it.