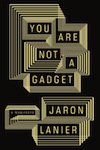 In his new book, "
You Are Not A Gadget
," online pioneer
Jaron Lanier
explains how the Internet has gone off course. In this Wall Street Journal, he summarises the key ideas and it turns out to be a full-blown rant against "digital collectivism", free software and open source.
"Here's one problem with digital collectivism: We shouldn't want the whole world to take on the quality of having been designed by a committee. When you have everyone collaborate on everything, you generate a dull, average outcome in all things. You don't get innovation.

If you want to foster creativity and excellence, you have to introduce some boundaries. Teams need some privacy from one another to develop unique approaches to any kind of competition. Scientists need some time in private before publication to get their results in order. Making everything open all the time creates what I call a global mush."
Check also this New York Times review.