55% of potential 3G portal users are lost due to basic usability issues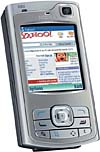 New research reveals that up to 55% of potential 3G users abandon value-added services (VAS) due to basic usability issues such as difficulty navigating through menus, inability to find downloaded content, or a forgotten password.
The findings came from live trials conducted by Olista and European mobile operators to identify the common barriers to potential 3G portal and content users.
Further statistics showed that users are confused between streaming and download, an issue further hampered by the bad billing experiences affecting 10 – 25% of users who receive multiple downloads of the same content. This makes disappointing reading and shows the gap between the number of customers who could use VAS and the number who actively do is huge.