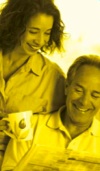 If you are interested in the elderly, two interesting UK studies were published this week.
The first report, "Living in the 21st century: older people in England" (press release – study download) presents a major longitudinal study (316 pages) about the reality of ageing in England. It covers employment, material well-being and poverty, health, quality of life and independent living.
(via FutureLab)
The second study, entitled "Don't stop me now – Preparing for an ageing population", (press release – study download) illustrates how unprepared the UK Councils are for this ageing population.
"The report asked older 'mystery shoppers' to identify the everyday challenges they face in accessing council services. They approached 49 councils asking a series of questions and found that most councils need to improve the way they provide information in key areas such as volunteering, leisure and social activities, learning opportunities and transport."