AP using ethnography to rethink news in the digital age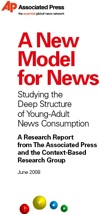 Last year,
Associated Press
commissioned Baltimore-based
Context-Based Research Group
to conduct an ethnographic research study focusing on the news consumption habits of young digital consumers in six cities around the world.
The drive for this research came from the recognition that a significant shift in news consumption behaviour is taking place among younger generations.
The study's main finding was that the subjects were overloaded with facts and updates and were having trouble moving more deeply into the background and resolution of news stories.
The report, which is presented today at the World Editors Forum in Goteborg, Sweden, structures the field study findings in a series of headings with short, one page descriptions:
News is connected to e-mail
Constant checking is linked to boredom
Contemporary lifestyles impact news consumption
Consumers want depth but aren't getting it
News is multitasked
Consumers are experiencing news fatigue
Television impacts consumers expectations
Story resolution is key and sports and entertainment deliver
News takes work today but creates social currency
These research insights helped AP design a new model for news delivery to meet the needs of young adults, who are driving the shift from traditional media to digital news.
In essence, AP realised that how news is being consumed in the digital space by young people matches how they are improving their own newsgathering and project development, and that they can build on this workflow to develop new delivery models that match people needs.
"Chief among those initiatives is a fundamental new process for newsgathering in the field called "1-2-3 Filing." The name describes a new editorial workflow that starts with a news alert headline for breaking news, followed by a short present-tense story that is usable on the Web and by broadcasters. The third step is to add details and format stories in ways most appropriate for various news platforms."
This led to a new 'Top Stories Desk' at AP headquarters in New York, where "the editors on that desk are urged to consider the big-picture significance of a select number of stories each day and to provide the perspective and forward-looking thinking that can enhance their development across all media platforms.
AP also launched major new content development projects in entertainment, sports and financial news to create more entry points for consumers with appetites for broader, deeper content in those categories, as well as a comprehensive mobile news service "to deliver news content, across category, to a platform most likely to be in the hands of the young target audience."
Finally, AP has been actively pursuing the creation of content with more "social currency" for consumers through new services such as Ask AP, by adding interactive explainers and audience views, by conceiving alternative story forms, or by providing further context such as was done in the "Measure of a Nation".
"These initiatives at AP, large and small, have sprung from a concerted effort to think about the news from an end-user's perspective, re-emphasizing a dimension to news gathering and editing that can get lost in the relentless rush of the daily news cycle. The consumer study provided important validation for that approach, as well as a continuing framework for thinking about future innovation."
Editors at the Telegraph in London are following a similar approach and have seen a big jump in traffic at the newspaper's Web site. The study ends with a case study describing how the Telegraph has adopted the mind-set of a broadcast-news operation to quickly build from headlines to short stories to complete multimedia packages online to boost readership.
– Read news article
– Download report (pdf, 3.6 mb, 71 pages)