Best wishes from Experientia | Auguri da Experientia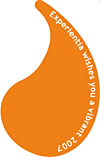 More than 2000 people read Putting People First every day, a good 60% via rss and email, the rest directly on the site. I don't know most of you, so only a few people got our email card, but there is of course this blog to wish you all a vibrant 2007!
Experientia has had a very successful 2006 and we are working for many major companies now, both from Italy and abroad. We will soon update our website to share some of these experiences with you. In two weeks we will also be moving to bigger quarters: a very beautiful apartment in the historic heart of Torino, and two floors down from where we are now. We hope that some of you can come visit us in 2007. Meanwhile take a look at this Flickr photo set to see the view from our new offices.
And do keep reading! I am not sure that I can keep up the grueling pace of over 700 posts in a year, but I will keep trying to share the culture of experience design.
Più di 2000 persone leggono ogni giorno Puting People First, un bon 60% tramite rss ed email, il resto direttamente sul sito. Non conosco la maggior parte di voi, così solo poche persone hanno ricevuto la nostra email d'auguri, ma ovviamente c'é questo blog ad augurarvi un felice 2007!
Experientia ha trascorso un 2006 pieno di successi e ora stiamo lavorando per molte importanti aziende, sia italiane che straniere. Aggiorneremo presto il nostro sito per condividere alcune delle nostre esperienze con voi. Nel giro di due settimane ci sposteremo anche in una nuova e più ampia sede: un bellissimo appartamento nel cuore del centro storico di Torino, due piani più sotto di dove siamo ora. Speriamo che qualcuno di voi possa venirci a trovare nel 2007. Nel frattempo (e solo se non siete di Torino!) date uno sguardo a questo set di foto Flickr per vedere la vista di cui si puó godere dai nostri nuovi uffici.
E continuate a leggerci! Non sono sicuro di mantenere ancora lo sfiancante passo di 700 post in un anno, ma continuerà a cercare di condividere con voi la cultura dell'experience design.