Book: Designing the Mobile User Experience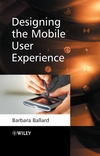 The book "
Designing the Mobile User Experience
", written by Barbara Ballard, is due out in January 2007.
It provides the professional with an understanding of the users, technologies, design principles, techniques and industry players unique to the mobile and wireless space.
Ballard describes the different components affecting the user experience and principles applicable to the mobile environment, enabling you to choose effective technologies, platforms, and devices, plan appropriate application features, apply pervasive design patterns, and choose and apply appropriate research techniques.
The text also includes a historical overview to help you understand which developments are likely to appear next in the field.
Barbara Ballard is the principal of the mobile user experience design company Little Springs Design, which has an interesting blog on the same matter on its home page.
Update 12 February 2007: According to the author, the book is now available in Europe. Those outside of Europe will have to wait until April.