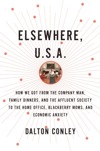 Elsewhere, U.S.A.
How We Got from the Company Man, Family Dinners, and the Affluent Society to the Home Office, BlackBerry Moms, and Economic Anxiety
by Dalton Conley
Pantheon, Hardcover
January 2009
Abstract
Over the past three decades, our daily lives have changed slowly but dramatically. Boundaries between leisure and work, public space and private space, and home and office have blurred and become permeable. How many of us now work from home, our wireless economy allowing and encouraging us to work 24/7? How many of us talk to our children while scrolling through e-mails on our BlackBerrys? How many of us feel overextended, as we are challenged to play multiple roles – worker, boss, parent, spouse, friend, and client – all in the same instant?

Dalton Conley, social scientist and writer provides us with an X-ray view of our new social reality. In Elsewhere, U.S.A., Conley connects our daily experience with occasionally overlooked sociological changes: women's increasing participation in the labor force; rising economic inequality generating anxiety among successful professionals; the individualism of the modern era – the belief in self-actualization and expression – being replaced by the need to play different roles in the various realms of one's existence. In this groundbreaking book, Conley offers an essential understanding of how the technological, social, and economic changes that have reshaped our world are also reshaping our individual lives.
About Dalton Conley
Dalton Conley is University Professor of the Social Sciences and Acting Dean for the Social Sciences at New York University. He also teaches at NYU's Wagner School of Public Service, as an Adjunct Professor of Community Medicine at Mount Sinai School of Medicine, and he as a Research Associate at the National Bureau of Economic Research. His essays have appeared in The New York Times, the Los Angeles Times, Forbes, and Slate, among other publications. His previous books include Honky; Being Black, Living in the Red: Race, Wealth, and Social Policy in America; and The Pecking Order: Which Siblings Succeed and Why. Conley lives in New York City.
New York Times book review
"Mr. Conley shows himself to be a much more acute observer than analyst. In a book that he describes as social criticism rather than social science, he underscores that privileged, present-day Americans (this study's narrow yet book-buying constituency) can only be convinced that they're in the right place, doing the right thing, at the right time, when they're on their way to the next destination. He postulates reasons for this phenomenon. But he cannot offer a coherent overview."