Book: Ethnography and the Corporate Encounter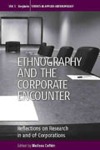 Ethnography and the Corporate Encounter: Reflections on Research in and of Corporations
Edited by Melissa Cefkin
Berghahn Books, July 2009
262 pages
Abstract
Businesses and other organizations are increasingly hiring anthropologists and other ethnographically-oriented social scientists as employees, consultants, and advisors. The nature of such work, as described in this volume, raises crucial questions about potential implications to disciplines of critical inquiry such as anthropology. In addressing these issues, the contributors explore how researchers encounter and engage sites of organizational practice in such roles as suppliers of consumer-insight for product design or marketing, or as advisors on work design or business and organizational strategies. The volume contributes to the emerging canon of corporate ethnography, appealing to practitioners who wish to advance their understanding of the practice of corporate ethnography and providing rich material to those interested in new applications of ethnographic work and the ongoing rethinking of the nature of ethnographic praxis.
Introduction

Chapter 1. Business, anthropology and the growth of corporate ethnography – Melissa Cefkin

Encounters with corporate epistemologies
Chapter 2. "My customers are different!" identity, difference and the political economy of design – Donna K. Flynn

Doing anthropology in organizational contexts
Chapter 3. Participatory ethnography at work: Practicing in the puzzle palaces of a large, complex healthcare organization – Chris Darrouzet, Helga Wild and Susann Wilkinson
Chapter 4. Working in corporate jungles: Reflections on ethnographic praxis in industry – Brigitte Jordan with Monique Lambert

Refractions of anthropological ways of being and knowing
Chapter 5. Writing on walls: The materiality of social memory in corporate research – Dawn Nafus and Ken Anderson
Chapter 6. The anthropologist as ontological choreographer – Francoise Brun-Cottan

Epistemologies, Part Two: Culture and the corporate encounter
Chapter 7. Emergent culture, slippery culture – conflicting conceptualizations of culture in commercial ethnography – Martin Ortlieb

Another look: commentaries from the academy and corporate research
Chapter 8. Insider trading: Engaging and valuing corporate ethnography – Jeanette Blomberg
Chapter 9. Emergent forms of life in corporate arenas – Michael M. J. Fischer
Melissa Cefkin is a cultural anthropologist with experience in research, management, teaching, and consulting for business and government. Currently based at IBM Research in the area of services research, she earned her PhD from Rice University and remains dedicated to pursuing a critical understanding of the intersections of anthropological practice within business and organizational settings.