[Book] Reputation Economics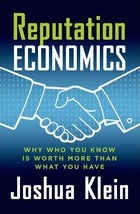 Reputation Economics: Why Who You Know Is Worth More Than What You Have
by Joshua Klein
Palgrave Macmillan Publisher
November 2013, 256 pages
[Amazon link]
Abstract
As the internet has increasingly become more social, the value of individual reputations has risen, and a new currency based on reputation has been created. This means that not only are companies tracking what an individual is tweeting and what sites they spend the most time on, but they're using this knowledge to predict the consumer's future behavior. And a world in which Target knows that a woman is pregnant before she does, or where a person gets a job (or loses one) based on his high school hijinx is a scary one indeed. But what if there were a way to harness the power of these new technologies to empower the individual and entrepreneur? What if it turned out that David was actually better suited to navigate this new realm of reputation than Goliath? And what if he ushered in a new age of business in which reputation, rather than money, was the strongest currency of all? This is all currently happening online already.
The author
Joshua Klein is an internationally known technology expert who studies systems, from computer networks and institutions to consumer hardware. His recent projects have included an acclaimed new television series on the history of innovation on the National Geographic Channel, called The Link, one of the most watched TED videos of all time (about vending machine to train crows to exchange found coins for peanuts) and the development of a cell phone application to create a virtuous cycle of education and employment in South Africa. His work has appeared in The New York Times, Wired, O Magazine, and The Harvard Business Review. He has made appearances on MSNBC, NPR, and has spoken at conferences from TED to Davos, and presented in front of organizations ranging from the State Department to the Young Presidents Organization Global Leadership Congress, to Microsoft to Amazon. He lives in New York City.
Essay based on the book
Worth reading, although I am not sure how his second and third solutions (see below) would actually work for the very large majority of people (particularly in a world of corporations who are very smart with algorithms and pervasive surveillance):
Solution 1:
"We can opt out entirely, which is increasingly only possible if we want to wrap our heads in tin foil and live in a cave."
Solution 2:
"We can limit how our personal information is gathered and utilized, and in doing so we can demand that it be purchased at higher rates than just access to Instagram. It may not mean cold hard cash (at least not at first), but we can certainly expect more premium services, more discreet advertising, or even just better control over who gets our data and for what purposes.

After all, once we start controlling what we share with whom, we can decide that certain kinds of information are worth more to which retailers. Want to know what sort of food I regularly order? I might decide to share that with FreshDirect (a grocery delivery service) and Seamless (a restaurant delivery service), but not with Good Eggs or GrubHub (their competitors). Once those services recognize that I've got a commodity they want—namely data that allows them to upsell, cross-market, and target-promote—and that I'm willing to withhold that information from one provider in favor of another, it changes the game substantially. In exchange for my precious data, companies might offer me meaningful dollar-value promotions, discounts, and special offers."
Solution 3:
"|If companies won't start offering genuine value for your data, then you should consider holding it back. Most of the tracking systems that exist online can still be circumvented or blocked: There are virtual private networks (VPNs) to prevent our location from being tracked, browser plug-ins to keep our Web page views private, encryption tools to keep our documents and emails from being scanned, and anonymizing software to allow us to participate in social networks without our real-world identities being connected to our online conversations. As an added bonus, many of these technologies (such as TOR for anonymizing our Internet traffic or PGP for encrypting our email) can also protect our data from government surveillance, both national and international."
I guess I will have to read the book.