Breaking down the walls of phones' web gardens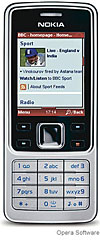 The Wall Street Journal published a nice article a few days ago of how the mobile version of the 90's AOL model that restricts people's access to only a limited number of mobile sites, is now starting to break down.
"Chuck Halverson, a banker in Minneapolis, pays AT&T Inc. $20 a month on top of his calling fee so that he can surf the Internet from his cellphone. But he doesn't use the browser that came loaded on the AT&T phone because it limits the sites he can visit.

Instead, he downloaded another program, Opera Mini, that lets him easily go to almost any Web site he wants.

"The experience should be the same no matter if you're on a mobile phone, a laptop or a desktop," he says. "You want it to be universal."

Ever since wireless companies began offering Internet services on cellphones, users have shared a similar complaint, largely because the companies want to control which sites their customers visit. Phones come with browsers designed to go mainly to the Web sites the carriers chose — usually the ones they have revenue-sharing deals with. It is possible to go to sites outside this "walled garden," but the experience is so slow and cumbersome that most users don't try. And some of those outside Web sites won't work with the carrier-approved browsers.

But now those walls are beginning to break down, in a development that harkens back to America Online's failed attempt to limit its Internet subscribers' surfing in the 1990s. "Having a Web browser and the ability to browse the open Internet on your mobile phone will be a given in the future," says Tony Cripps, an analyst at research firm Ovum in London. "It's a capability that eventually people would expect to be there, just like text messaging and camera."

Many new browsers to ease surfing on the Web are being developed, and some wireless carriers have begun opening up Internet use for customers."
The article ends with an interesting aside on developing countries where "many people's only option to go online is through their cellphones" and "advancement in mobile Internet will [therefore] have a particularly big impact.