A 60m low carbon building project in Helsinki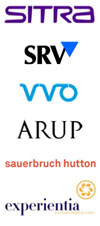 Sitra, the Finnish Innovation Fund and development partners, SRV and VVO today announce a 60m investment for a low carbon housing and commercial building complex in Helsinki.
Work on the development will begin immediately, with completion scheduled for the end of 2012. Through the project, Sitra aims to generate research and evidence that will inform the policy, innovation and practices that will drive future "low and no" carbon development in the built environment.
The announcement follows Sitra's Low2No competition that challenged five teams shortlisted from an initial 75 to design a building complex for Jätkäsaari, a reclaimed goods harbour to the west of central Helsinki.
The competition was won in September 2009 by an international team led by global design, engineering and planning firm, Arup, providing engineering and sustainability services. The team also includes Berlin-based Sauerbruch Hutton as lead architects and consumer behaviour-change strategists Experientia from Italy.
The building complex covers 22,000 square metres and will provide new residences, office and retail space. Emissions will be reduced through building design and performance, mobility systems and food production. The competition-winning design for the development centred on four objectives:
Building energy efficiency – better performing buildings will be designed, with an appropriate mix of end-uses and through the intelligent planning of the spaces between them. Energy demand management tools and techniques such as smart meters and behavioural change prompts will encourage residents to contribute reduce energy consumption.
Use of sustainable materials and methods – sustainably-sourced timber and materials which have a lower impact on the environment (in terms of toxicity and embodied carbon) will be used.
Encouraging the community to meet sustainability goals – by increasing their awareness and understanding of the impact of their energy and transport usage, food and consumer goods consumption.
Develop replicable and scalable solutions that can be adopted more broadly in transforming the built environment to low – and eventually – no carbon emissions. These objectives will be met by coupling solutions with an increased shift towards renewable energy production and new sustainable funding mechanisms.
"Finland has committed to reducing its CO2 emissions by 80% by 2050. With this project Sitra encourages cities and the real estate and building industry to tackle these ambitious goals in their projects. Sustainability is more than just energy efficiency. We seek new solutions for improving energy efficiency, new content for defining and understanding sustainability in building, as well as social innovations," says Jukka Noponen, Executive Director of Sitra's Energy Programme.
"The Low2No City Block in Jätkäsaari is an important step towards sustainable development. The new marine districts, reclaimed harbour areas offer possibilities for a wide introduction of new solutions," says Deputy Mayor Hannu Penttilä who is responsible for urban planning at the City of Helsinki.
"SRV aims at differentiating as a forerunner in sustainable construction. Low2No is an excellent example of our long-term commitment and efforts. The project team contains top experts both internationally and from Finland. This is well in line with our SRV Approach, which allows us to always seek the best partners for each project," comments Timo Nieminen, Senior Executive Vice President and Deputy CEO of SRV Group.
"VVO Group has been persistent in pursuing the goals set for energy saving in existing building stock and new buildings. This development project in Jätkäsaari builds straightforward on our consistent work on this and will help in keeping VVO ahead in the forefront of this transition. The site location is excellent, offering us an opportunity to build cost-efficient rental apartments, subsidised by the state, in the vicinity of the city centre – and near the sea," states Esa Kankainen, Project Development Manager at VVO.
"Defining implementable and replicable sustainable solutions is one of the great challenges of our times. We are thrilled that the transitional strategy defined by the Low2No vision has found an implementation framework to carry it into the world. Guided by a strong sense of a common mission the design and development team's partnership is a real accomplishment. It is now our obligation to deliver on the promise we have captured, and this opportunity excites and motivates all of us to transform the notion of "business as usual"," comments Marco Steinberg, Director of Strategic Design at Sitra.
"In 1990, Finland became the first country in the world to establish a carbon tax. This ambitious project provides us with a unique opportunity to show how urban design can influence inhabitants to live more sustainably, in balance with the environment. Our design approach will allow the community to become carbon negative within 10 years, providing decision makers, developers and planners across the world with an example of how future environmental challenges can be met," comments Alejandro Gutierrez, consortium manager at Arup.
"Sustainable developments need a holistic approach within which architecture will play a leading part. As sustainable buildings are dependent upon the cooperation of their users to develop their full potential, they will need to seduce their inhabitants into a proactive role through the pleasure of space, light and material that they offer," says Matthias Sauerbruch at Sauerbruch Hutton.
"People, their contexts, social networks, habits and beliefs are crucial tools for creating sustainable change in behaviour. We will therefore offer people ways to control their consumption and see the affects of their actions on the environment," comments Jan-Christoph Zoels, project lead at Experientia.
MORE INFORMATION
For more information, please contact Experientia at +39 011 812 9687 or via email at info at experientia dot com.
NOTE TO EDITORS
Arup
Arup is the creative force behind many of the world's prominent building, infrastructure and industrial projects. We offer a broad range of professional services that combine to make a positive difference to our clients and the communities in which we work.
We are truly global. From 90 offices in 35 countries our planners, designers, engineers and consultants deliver work across the world with flair and enthusiasm.
Founded in 1946 with an enduring set of values, our unique trust ownership fosters a distinctive culture, an intellectual independence and encourages truly collaborative working. This is reflected in everything we do, allowing us to contribute meaningful ideas, help shape agendas, and deliver results that frequently surpass the expectations of our clients.
We passionately strive to find a better way, to imagine and shape ideas and to deliver better solutions for our clients.
www.arup.com
Experientia
Experientia is an international experience design consultancy helping companies and organisations to innovate their products, services and processes by putting people and their experiences first. To design valuable user experiences, companies have to understand how users really live their lives, now and in the future, and to design new products and services that address these insights. Experientia's approach is based on a thorough integration of a deep user and context understanding into its design and prototyping activities.
Experientia's client roster features Italian and international clients, such as Alcatel-Lucent, Condé Nast, CVS Pharmacy, Ferrero, Fidelity International, Intesa SanPaolo bank, Kodak, Max Mara, Microsoft, Nokia, Research in Motion, Samsung, Swisscom, Tre Spade and Vodafone, as well as public institutions such as the Region of Piedmont, Italy and the Province of Limburg, Belgium.
www.experientia.com
Sauerbruch Hutton
Sauerbruch Hutton is a Berlin-based architectural practice with projects throughout Europe. The 80-strong practice was founded by Louisa Hutton and Matthias Sauerbruch in 1989. Their ability to combine architecture, urbanism and design with a culturally informed outlook on sustainability has been internationally recognised. Last year, Sauerbruch Hutton completed the Brandhorst Museum in Munich – a building that is exemplary of the architects' insight into materiality, colour, innovative detailing and a contemporary approach to design that is both distinctive and timeless.
www.sauerbruchhutton.de
Sitra, the Finnish Innovation Fund
Competitiveness and well-being today require broad and far-reaching changes. Sitra gathers information about the future and enables necessary reforms together with a wide range of actors. The programmes and strategy processes of Sitra are designed to meet the challenges Finland is facing. Sitra is an independent public foundation, whose mission is to build successful Finland for tomorrow.
www.sitra.fi/en
SRV Group
SRV is an innovative construction company that provides end-to-end solutions and assumes customer-focused responsibility for the development, construction and commercialisation of projects. SRV operates in Finland in Helsinki Metropolitan Area, Turku, Tampere, Oulu, Jyväskylä, Lappeenranta, and Joensuu. SRV also operates in Russia and in the Baltic countries.
www.srv.fi/home
VVO
VVO is a publicly-listed company providing housing services. From VVO, you can rent an apartment, acquire right-of-occupancy or part-ownership housing or buy a dwelling outright. VVO develops, markets and manages its own dwellings. VVO has about 39,000 rental dwellings in about 50 different municipalities.
www.vvo.fi/en