eBay and PayPal user experience design awards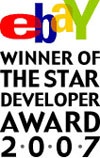 eBay announced the winners of its
Star Developer Awards
at its annual Developers Conference this week. Six developers won recognition for their eBay and PayPal applications, two of whom in the category "best user experience design".
The "eBay Best User Experience Design" award was given to Mpire's Shopwave, for its development of a new Flash-based online shopping visualisation application.
The "PayPal Best User Experience Design" award was given to E-junkie's FatFreeCart, for the implementation of PayPal Website Payments Pro with the only cart which works inside the merchant's website (not in a pop-up) without having to install anything.
The eBay Star Developer Awards annually recognise members of the eBay Developers Program for innovation, creativity and commitment to the eBay Community," said Max Mancini, Senior Director of Platform and Innovation, eBay.
The eBay Developer Conference in Boston brings together more than 500 third-party developers, entrepreneurs and affiliates to meet with technologists and business leaders from eBay, PayPal, ProStores, Shopping.com and Skype.

eBay relaunching to enhance user experience
Meanwhile AP reports that eBay is undertaking an overhaul to enhance its user experience:
'With eBay entering something resembling middle age, with growth slowing and the stock price in a funk, the company is undertaking a crucial overhaul. The goal is to make buying things easier, more entertaining and more like shopping in the physical world — three counts on which the company has fallen behind.

"Our user experience has always been fantastic, but it didn't keep up, in my view, as well as it should have," CEO Meg Whitman said in an interview Friday on the sidelines of the 'eBay Live' user celebration in Boston. "You will see more changes to eBay's buyer experience in the next 12 months than you probably have seen in the past three or four years."

For example, to reduce buyers' skittishness about sellers they don't know, eBay has broadened the feedback criteria that can be left for vendors, and it has tried new strategies for reducing fraud. The company also is trying to make vendors' shipping costs more transparent, so fewer buyers feel sandbagged by hidden charges.'