Experientia designer Dohun YuLuck Jang ìœ ë¡ in Design 4 Disaster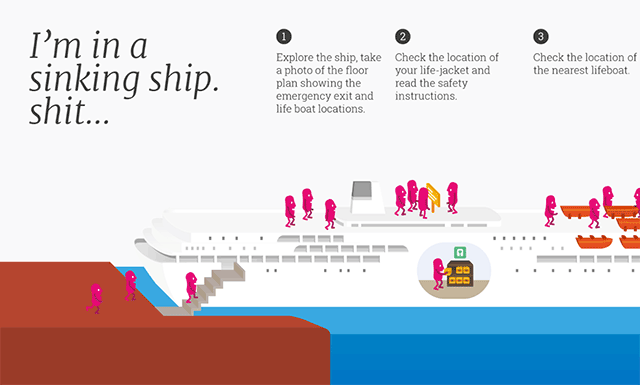 Design 4 Disaster features an engaging illustrated safety manual for ship passengers, a personal project by Experientia designer Dohun YuLuck Jang ìœ ë¡.
After the Korean ferry accident last year, Yuluck (who is Korean) wanted to find a way to make safety manuals more interesting to read. He spent one year designing an interactive safety guide for ships that combines fun graphics with relevant guidance on how to proceed in situations that may arise in ship emergencies
It is now online in English, Italian and Korean.
Design 4 Disaster functions as a source of information and a communication platform for exchanging knowledge, experience, ideas and projects. It showcases designs that develop sustainable infrastructure and methodology to better guard against crisis. It connects designers, philanthropists, citizens and corporations in an effort to create a better and more sustainable world. How can we design life in a way that we are better prepared and have better infrastructure, methods to avoid damage, suffering and death tolls?