Experientia's brand new website experience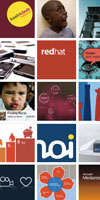 Over the last five years experience design consultancy
Experientia
has grown from new beginnings to a vibrant company with a large portfolio.
To showcase our latest projects, ideas and methodologies, we have redesigned our website – www.experientia.com – giving it a fresh look, and creating a brand new experience for the viewer. The site follows top user experience standards, and will be easily updatable with new projects, staff and news as we continue to grow.
The new site is visually engaging, with slideshows featuring our work, and also content rich, sharing our methodologies and our ideas about some of the most important questions in experience design today. Our design aesthetic is evident throughout the site, in the impeccable attention to detail and the eye-catching composition.
What's new
Our innovative filtering approach helps people to quickly and easily find their way to our services, and a library of some of our most exciting and representative projects. Content can also be accessed through pictures, making the site highly visual, and exploring new directions in filtering content, particularly for a corporate website. All content can be accessed in multiple ways, designed to meet different needs and points of view, such as through services, past projects, and the common challenges that businesses face. Integrated into our services and methodologies are actual projects from the last four and a half years, showing how we work in action, and our great results.
The projects on the site are a selection, chosen to reflect the breadth and width of areas we deal with, and our varied expertise. In addition to this, the viewpoints section "Our Perspectives", shares our thoughts on some of the most vital issues and developments in experience design today. These will change regularly, creating an interesting focal point for frequent visitors to our site.
The site also offers a portal to our popular and successful blog, Putting People First, where Experientia partner Mark Vanderbeeken explores daily insights on user experience, experience design and people-centred innovation.
Currently in English, we envision an Italian version being online in the next few months. The site is online at www.experientia.com.
For more information on Experientia contact us at info at experientia dot com.