Exploring good experiences at the Gel 2006 and euroGel 2006 conferences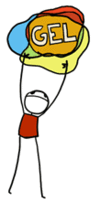 Mark Hurst
of
Good Experience
contacted me today about the
Gel 2006 conference
.
Gel is a conference and community, exploring good experience in all its forms — in business, art, society, technology, and life. The goal of the conference [which is well regarded and highly orginal in concept] is to create an environment that allows our multi-disciplinary community to explore the idea of "good experience" in a variety of contexts.
The Gel 2006 conference will take place on 4-5 May 2006 in The Equitable Theater in New York.
A few months later Gel is going international: euroGel 2006 will be a Europe-wide conversation about good experience, featuring speakers from across the continent, and will take place on 1 September 2006 in the main library in Copenhagen, Denmark.