Former Experientia intern Janina Boesch wins 2006 Adobe Design Achievement Award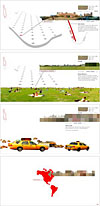 Former Experientia intern
Janina Boesch
just won the
2006 Adobe Design Achievement Award
in the category "interactive media" with her RISD degree project "
Manhattan Dissected
".
"Manhattan Dissected" is an interactive application based on a subjectively viewed Manhattan. Somewhere between a digital city guide and a personal exploration, this project includes 3D navigation, 360-degree views, photos, sound recordings, and historical information.
The Adobe Design Achievement Awards celebrate student achievement that reflects the powerful convergence of technology and creative arts. Students from schools in 24 countries throughout the world submitted nearly 1,500 entries to this year's competition. Winners were chosen in nine categories, representing work by some of the most talented and promising student graphic designers, photographers, illustrators, animators, digital filmmakers, and computer artists from the world's top institutions of higher education.
Janina Boesch was born in 1978 in Bremen, Germany. After completing an apprenticeship to become a digital media designer, she moved to the U.S., where she did a one-year internship at 4 Corners, New York. In 2003, Janina began to study graphic design at Rhode Island School of Design. At RISD, she was not only taught the beauty of typography but also learned to combine her previous interest in interactive media with her new love for clean and thoughtful designs. She recently started to work for the New York Pentagram office, where she became a full-time designer after she graduated in June of this year.
Janina was an Experientia intern in January-February 2006 and worked on several projects, including the design of this blog.