Gel and euroGel 2006 announcement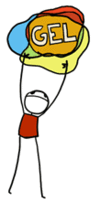 A few months ago I
wrote about
the Gel and euroGel conferences in 2006.
Mark Hurst
just posted a partial line-up of speakers.
The euroGel 2006 conference which will take place on 1 September 2006 in Copenhagen, Denmark, features: Han Bennink, drummer and multi-instrumentalist, the Netherlands; Vuk Cosic, ASCII artist, Slovenia; Max Gadney, head of design & audience insight, BBC News Interactive, UK; David McQuillen, vice president customer experience, Credit Suisse, Switzerland; Christoph Steinbrener and Rainer Dempf, artists, Germany; and Jimmy Wales, founder, Wikipedia and director, Wikimedia Foundation, USA and Africa.
The Gel 2006 conference, scheduled for May 4-5, 2006 in New York features: Katy Börner, associate professor of information science, Indiana University, and curator of Places & Spaces; Geoffrey Canada, president, Harlem Children's Zone; Seth Godin, bestselling author, entrepreneur and agent of change; Mark Hurst (the Gel host); Jane McGonigal, game designer and editor of Avant Game; Erin McKean, editor-in-chief, The New Oxford American Dictionary, and editor, Verbatim magazine; Craig Newmark, founder, Craigslist.org; Douglas Rushkoff, bestselling author and thinker on new media and popular culture; and Cathy Salit, president and CEO, Performance of a Lifetime.