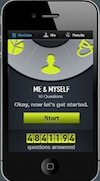 This past week featured a worldwide experiment conducted via a mobile app: The Human Face of Big Data. On September 26, 2012, Against All Odds Productions launched a smartphone and tablet app. With it, users could map their daily footprint through GPS, share a picture of what brings them luck, and get a glimpse into the one thing people want to experience during their lifetime. Why was this done?
Rick Smolan believes in the concept of "big data", the idea that it is possible to analytically process massive amounts of data in order to derive insights into problems facing the world. Without most people even realizing it, your smartphone is collecting a lot of data on a daily basis. Where you have been. Who you have been calling. What businesses do you like. Most of this data is used for marketing or discarded after temporary usage by your apps. But what if this data could be harnessed?
The Human Face of Big Data app allows volunteers to provide demographic information through a series of questions. Then, through the rest of the week, the smartphone's sensors were keeping a log of how far people traveled, how fast, and where they were going. While this may mostly be interesting to social scientists, Smolan is doing this to show just how much information people are already sharing passively. He believes that big data will have a more transforming effect than the internet itself.