Imagining a future IKEA catalogue [design fiction]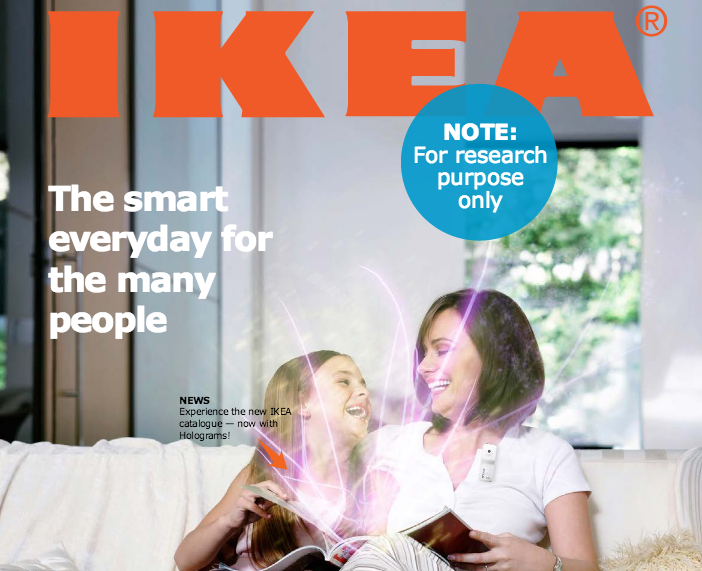 On August 31st Julian Bleecker and Nicolas Nova from the Near Future Laboratory organised a full day design fiction workshop in Sweden focused on the consumer-oriented Internet of Things. The goal for the day was to create a catalogue in IKEA style for the year 2040 with products not yet existing related to IoT. The fictive catalogue contains e.g. the Unconnected Sofa, a sofa that is extra expensive as it is not connected to the internet.
The workshop was part of a larger initiative by the MobileLifeCentre to brand Sweden as an IoT-nation, by unleashing its huge commercial potential, and bring solutions of relevance to society and consumers.
The project, which focused on IoT for domestic, body-based and games purposes, involved some of the most forward-looking industrial actors and research centres including Ericsson, Yanzi, Husqvarna Group, IKEA, Sophiahemmet, Boris Design Studio, Ziggy Creative Colony, WeMeMove, BioSync Technology, Twiik, STING, Arvax, Mobile Life, SICS, Wireless@KTH, Uppsala University, and IOTAP.
A report on the initiative is available here.
The Mobile Life VINN Excellence Centre was formed in 2007, and has established itself as an internationally recognized research locus in the area of mobile services. The centre, which has 30 researchers, explores experiential, leisure and playful mobile and ubiquitous interactions. It is a joint venture between three research partners and nine industrial partners and with funding by the Swedish governmental funding agency VINNOVA.