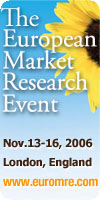 Next week I will be in London to attend the
European Market Research Event
and to blog from the conference.
I am listing here just a handful of the many speakers of the three-day event (in no particular order) to give you an idea: Anne Kirah, Senior Design Anthropologist Customer Design Center, MSN/Microsoft Corporation; James Surowiecki, Author, "The Wisdom Of Crowds"; Roula Nassar, Director Global Hair Care Consumer and Market Knowledge, Procter & Gamble; Flemming Ostergaard, Marketing Innovation Director, LEGO and Helene Venge, Global Marketing Manager, LEGO Interactive; Anat Amir, Head of Product Experience and Research, O2; Valerie Bauwens, Senior User Researcher, The Customer Observatory, SWISSCOM; Clive Grinyer, Director of Design, France Telecom Orange; Margaret Alrutz, Senior Design Researcher, Steelcase Iterative Design and Customer Feedback; Francesco Cara, Director Nokia Design, Insight, and Innovation, Nokia.
There are many more.
So read this blog if you want to know what the event is all about. A second edition is already planned for June 2007.
(And if you are around in London or at the conference, please let me know.)