Intuition is losing ground to data mining, a new book claims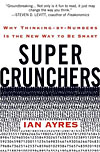 According to a new book by
Ian Ayres
, an econometrician and law professor at Yale, a powerful trend that will shape the economy for years to come: the replacement of expertise and intuition by objective, data-based decision making, made possible by a virtually inexhaustible supply of inexpensive information. Those who control and manipulate this data will be the masters of the new economic universe.
Ayres calls them "Super Crunchers," which is also the title of his book, the latest attempt to siphon off a bit of the buzz that surrounds the hugely successful "Freakonomics."
In fields from criminal law (where statistical projections of recidivism are taking discretion away from judges and parole boards) to oenophilia (where a formula involving temperature and rainfall is a better predictor of the quality of a vintage than the palates of the most vaunted experts), "intuitivists" are on the defensive against the Super Crunchers.
– Read full story (Newsweek magazine)
– Book website
– Book page on Amazon