Jake Barton of Local Projects wins USA's National Award for Interaction Design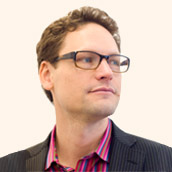 We at Experientia have always admired the work of Jake Barton and his company Local Projects, for the way that they have deeply woven people's narration and storytelling into the design of interactive installations and museums.
Now Jake has won the 2013 National Award for Interaction Design, which shall be handed to him by Michelle Obama during a luncheon ceremony at the White House. Congratulations!
The National Design Awards – which cover a range of design categories – were conceived by the Smithsonian's Cooper-Hewitt, National Design Museum to honor lasting achievement in American design. The Awards are bestowed in recognition of excellence, innovation, and enhancement of the quality of life.
Founded by Jake Barton, Local Projects is a media design firm that specializes in work for museums and public spaces. Local Projects is creating all media for the 9/11 Memorial and Museum, Cooper-Hewitt, National Design Museum with Diller Scofidio + Renfro, and the Frank Gehry–designed Eisenhower Memorial. The firm is recognized as a leader in the field of interaction design for physical spaces, and in the creation of collaborative storytelling projects where participants generate content. Through Storycorps, the 9/11 Memorial Museum, and Change By Us, Local Projects has brought forth over 100,000 individuals' stories and memories, sharing them with millions worldwide. Clients include SFMOMA, the Cleveland Museum of Art, the National Museum of African-American History and Culture, and the Sugar Hill Museum of Children's Art and Storytelling, NYC.