Kurzweil sees future when humans, tech will converge [The Mercury News]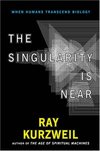 Ray Kurzweil, one of the USA's most acclaimed inventors, has some unusual ideas about how we'll live in 25 years.
Looking ahead 40 years, Kurzweil believes humans will evolve into semi-mechanical beings who can alter their physical appearance at will. We'll live almost forever, barring accidents or violence, in a world without hunger or poverty. And humanity's expanded brain power will ultimately reach out to control the universe.
This may sound crazy, but Kurzweil makes a compelling case in a new book, "The Singularity Is Near: When Humans Transcend Biology" (Amazon link), which reached store shelves last week and is officially published Monday.
At the risk of oversimplifying the complex arguments in Kurzweil's 652-page tome, which includes 105 pages of footnotes, he argues that three converging fields — genetics, nanotechnology and robotics/computing — are entering an exponential phase that will create more changes in the next 40 years than in the past 4,000.
For those who don't want to plow through the book, extensive excerpts and commentary are available free on the book's website.
Update: read Wall Street Journal review