Library of Congress lecture series on "digital natives"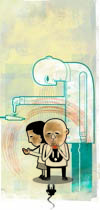 The
John W. Kluge Center
at the
Library of Congress
is organising a four-part
lecture series on "Digital Natives,"
referring to the generation that has been raised with the computer as a natural part of their lives, especially the young people who are currently in schools and colleges today.
The series seeks to understand the practices and culture of the digital natives, the cultural implications of their phenomenon and the implications for education to schools, universities and libraries.
A Washington Times article today and some Library of Congress press releases provide some more insight:
[The series] began April 7 with child development expert Edith K. Ackermann (site) discussing "The Anthropology of Digital Natives" (video).
The Washington Times writes: "Ms. Ackermann, a visiting scientist at Massachusetts Institute of Technology, spoke almost affectionately of young people's affinity for sharing, "even before they think," and their "fascination with freedom," defined, in part, as having "the ability to do the right thing even when they have not got all the knowledge." Because of their affinity for texting and borrowing sources available widely on the Internet and social networking sites, she concluded that "the gap between reading and writing is closing down."
On 12 May, a spirited defense of the digital generation was presented by the writer Steven Berlin Johnson (site) based on his 2005 best-selling book, "Everything Bad is Good for You" (wikipedia). [A video is not yet available].
According to the Library of Congress press release, Johnson discussed the response to his argument that popular culture is growing more complex and cognitively challenging, and is not racing downward towards a lowest common denominator. He also talked about the future of books in this digital age.
Michael Wesch (site), assistant professor of cultural anthropology at Kansas State University, is the man behind the viral internet video "The Machine Is Us/ing Us", which with over 600,000 views has become somewhat of a phenomenon. Welsch will discuss the three-year-old video-sharing Web site in a lecture titled "The Anthropology of YouTube" on 23 June.
"More video material has been uploaded to YouTube in the past six months than has ever been aired on all major networks combined, according to cultural anthropologist Michael Wesch. About 88 percent is new and original content, most of which has been created by people formerly known as "the audience."

According to Wesch, it took tens of thousands of years for writing to emerge after humans spoke their first words. It took thousands more before the printing press appeared and a few hundred again before the telegraph did. Today a new medium of communication emerges every time somebody creates a new web application. "A Flickr here, a Twitter there, and a new way of relating to others emerges," Wesch said. "New types of conversation, argumentation and collaborations are realized."
Douglas Rushkoff (site), a teacher of media theory at New York University who recently wrote a pamphlet for the UK think tank Demos, will close the series with a lecture entitled "Open Source Reality" on 30 June.
The series should eventually be available on video webcasts.
The Washington Times article also refers to a few other resources, including Digital Native, an international online academic research project that explores the "digital media landscape" and its implications. (Check the links at the end of that page).
By the way, check out the gorgeous illustration that Linas Garsys made for the Washington Times. Click on the image on the left so see it in its full size.