Low2No Camp: entrepreneurial ideas to activate Low2No vision

Article by Experientia collaborator Irene Cassarino, with additional input from Jan-Christoph Zoels.
How do you create community services and business models for a carbon neutral building block before the buildings stand?
Thirty Finnish entrepreneurs came together last Tuesday (20 September 2011) in Helsinki to present innovative business and service models for a carbon neutral to negative building block in the Helsinki docklands Jätkäsaari.
Campers are urban enthusiasts that were challenged to develop entrepreneurial projects around sustainable living in a urban environment – with the ultimate aim of activating the Low2No vision beyond the perimeter of the 22.000 sqm of the Airut* block on Jätkäsaari.
The Low2No Camp was sponsored by Sitra, the Finnish Innovation Fund, and supported by Demos Helsinki and Experientia.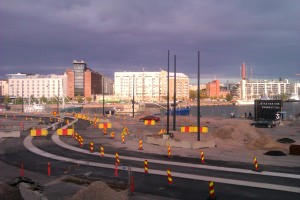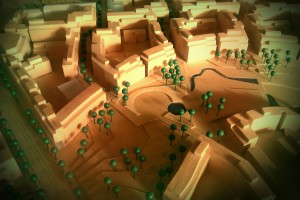 (Click images to enlarge)
On Tuesday afternoon, the Campers presented their concept ideas to an audience of stakeholders, experts and possible investors.
Indeed, while for us (the designers) the event had the bittersweet flavour of closure, for the Campers it was just the beginning of a possible entrepreneurial path. Their adventure started in June, when – along with the Demos Helsinki crew – they sustainably travelled (boat + train) to the Maker Lab in Berlin. Refreshed and excited through the intense and multicultural brainstorming sessions, they came back to Helsinki with five preliminary ideas to be grown into concept and eventually entrepreneurial proposals.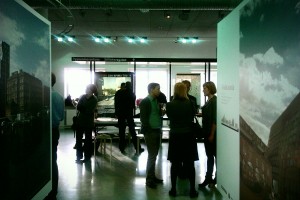 The Low2No Camp final showcase event took place at the Jätkäsaari information centre, where future developments of the site are depicted through information panels and interactive screens.(Click image to enlarge)
When we met them after their Berlin campaign, the five teams of Campers were so excited about their oversea experience that helping them to boil down their ideas into viable concepts has been at the same time amazing and challenging.
Not all propositions survived the Summer break and – as always happens when voluntary effort and self motivation are the main drivers of action – the geometry of teams also changed. They all have another job after all, as the majority of budding entrepreneurs have, and some people's availability decreased when the new season started.

Demos and Experientia contributed to support Campers' concept development from idea generation to the 10 minutes pitch.(Click image to enlarge)
The five ventures presented at the final events were – in brief:
1. 100 ways to Eden is a social enterprise that makes urban food production as integral part of our everyday life.
The carbon footprint of an industrialised food production is enormous, not to mention other negative impacts on nature, social environment and health.
The most effective way to improve the situation is to turn urban food consumers into urban food producers. This change will be possible through intensive research, education, development and networking. There is a greener and better future for all.
The first projects that will make the "shift to Eden" start to happen within next few years include:
Multiple "Laaritalkoot": service of small scale planters, greenhuts, composters, aquaponics (see below) etc.
Experimental "Green lighthouse" serves as community and information hub.
Edenet: Web services for information, discussion, networking, support from the growing urban community of gardeners.
Team members: Pinja Sipari, Kirmo Kivelä, Kaisa Nirkkonen, Tomi Oravainen, Minna Ritoluoma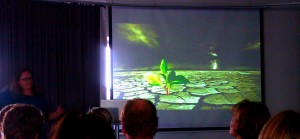 Minna Ritoluoma presenting 100 ways to Eden(Click image to enlarge)
2. Aquaponics Finland designs and commercialises hydroponic irrigation and gardening systems. Aquaponics aims at replacing traditional issues surrounding access to food by essentially bringing scalable farming into the home, into the courtyard – including a warehouse scenario that in addition to supporting local food demands, handles logistics for local aquaponics users.
The project (slide presentation) will enable a considerable decrease in carbon impact due to reduced transportation, processing of food & logistics, with the added benefit of having fresh organic food grown within the fiber of the community.
Team members: Antti Kirjalainen, Peter Kuria
3. Pukuhuone.fi – "Dressing Room" is an ecological style guide which believes in style before fashion, sharing before ownership and storytelling before ignorance.
It brings together local designers and artisans, vintage shops, flea markets, tailors and shoemakers, laundries and repair services to create a platform which leads the consumer to dress up with a bit more love and care.
On a larger scale pukuhuone.fi aims to slow down fashion, speed up sharing and make old (recycled, shared, something with a story) more valuable than new (anonymous, with no personality, silent).
Pukuhuone.fi fights against faceless mass production, poor quality materials, information overload and fast fashion which creates needs people don't really have. Style will save us but we need good storytellers to make that happen.
Team members: Hanna Linkola, Outi Ugas, Anniina Nurmi, Minna Ainoa, Laura Puromies, Outi Pyy, Arto Sivonen
4. School of Activism is a world-traveling series of urban activist workshops and festivals: a platform for those who shape our urban future.
Two groups of 30 selected participants – activists, producers, innovators, artists, and allround urban mavericks from all around the globe – come together in a new city each year for two weeks worth of creative sessions, lectures by urban luminaries, and unforgettable urban interventions.
The School organises workshops both from pioneering mavericks of old and trailblazing innovators of the present, followed by sessions that put that breadth of knowledge and inspiration into practice to solve urban problems.
School of activisms offers the chance to solve actual problems in some of the host city's suburbs: with plenty of time to chat on cool new ideas, get to know each other, get a glimpse into local happenings and places, and ask the questions people were always keen on asking.
Team members: Heta Kuchka, Arto Sivonen and Olli Sirén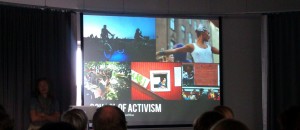 5. Ab Hukkatila Oy – Ab Waste Ltd does toward space what internet did toward information.
Hukkatila is an development company with an eye on urban places that are empty, underused, or shunned but do have potential because of their location, demand for certain functions in the area, their unique design, unintentional and unseen attractiveness and functions. Development strategies focus are temporary usage, mixed use or 'life after urban death' scenarios.
The goal is to create more enjoyable urban environment, regenerate the local communities, promote mixed use of places and develop replicable concepts of synergistic space and property sharing.
Hukkatila exploits sophisticated place-bound architecture, integrated with urban food and energy saving ecosystems, open source apps for built environment, in order to make unlikely processes and collaborations happen.
Team members: Eve Astala, Virkkala Inari, Inari Penttilä Jaakko Lehtonen, Lari Lohikoski
Camper Eero Yli-Vakkuri also took the chance to present No Chair Design Challenge, the provoking challenge to worldwide designers not to design any chairs for all 2012.
Are you a designer? Then look at the tutorial (video).
During their presentations Campers collected plenty of audience feedback. Next steps include a colloquium with an experienced VC and business mentor from Sitra to advice teams business and managerial approach.
Good luck to all from Experientia!
* The Airut Block
The block which is the result of the Low2No project will be called Airut.

Airut signifies a "forerunnerâ" and "messengerâ" in Finnish, thus it is conceptually easy to link to the idea and spirit of Low2No. The block aims to be a forerunner in sustainable building and construction, as well as to spread and promote the ideas of the Low2No model of sustainable urban living.

Airut is an old Finnish word which has Germanic roots. It has been used in spoken language for about 1000 years, and was introduced in written language for the first time in 1745.

It is not commonly used in Finnish spoken language today, thus it has a fresh sound to it. Also, it can rarely be found in brand or company names.
Links:
– Low2No website
– Low2No Camp
– Profiles of Campers
– Low2No campers facebook page
– Demos Finland website