Low2No project wins Holcim acknowledgement prize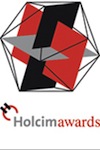 Medium rise timber office building in low-to-no carbon emissions district, Helsinki, Finland, wins
Holcim acknowledgement award for sustainable construction
.
The Low2No design team led by Sauerbruch-Hutton, Arup and Experientia were recognized for the multi-story timber construction headquarter for Sitra, the Finnish Innovation Fund.
The office and incubator building "is part of an inner-city building complex that augments the urban redevelopment of the former Jätkäsaari docklands in Helsinki. The aim for the entire building complex is to establish a "sustainable living" and "low-to-no carbon emission" performance through participatory planning and design methods.
The SITRA Headquarters at Low2No combines a variety of technical features that enhance user awareness and reduces weighted energy use to 45kWh/sq m per year, less than half the average Finnish requirement for heating and cooling. Civic amenities, including an auditorium, library and café, create a welcoming atmosphere for the public."
Comment of the Holcim Awards jury Europe:
In terms of its construction and program, the office building is commended by the jury for achieving the aspired principles of transferability, transparency and inventiveness. All of the construction, even the cores and the prefab facade panels will be entirely in Finnish timber, globally an innovation for a 26m high 6-storey office building. Beyond these measures, the project has a successful holistic approach towards its design, connecting social, ecological, aesthetic and economical demands on a high level and it is thus an outstanding example of how sustainable architecture can be achieved on a larger scale.
The three winning projects in the European region stand out through a high degree of visionary place making and provoke our rethinking of the public spaces and existing buildings.
Gold prize went to Realities United from Berlin, Germany for an urban Flussbad on the Museumsinsel in the centre of Berlin.
"The Flussbad urban plan will remediate an area rich in cultural heritage by transforming an under-utilized arm of the River Spree into a natural 745m-long "swimming pool". The project will form a swimming zone equivalent to 17 Olympic-sized pools – and directly improve the quality of urban life and the ecology of the waterway." A 1.8ha reed bed water filtration system with sub-surface sand bed filters located before the swimming area purifies the river water. The beauty of this project lies not only in the reuse of public waterways for relaxation but also adding a sense of social placemaking into a historic and status laden city center.
Holcim Awards Silver went to a project that converts a former factory into a new City Hall and Civic Center for the city of Oostkamp in Belgium by not only recycling the main structure and materials but also re-using the space itself and its technical infrastructure. Holcim Awards Bronze was presented to a smart transformation plan for a viaduct on a bypassed section of an expressway into vertical homes, using an existing structure for a completely different use that brings new economic potency to Southern Italy.
The Holcim Awards Bronze was awarded to a collaborative project by Philippe Rizzotti Architects, Samuel Nageotte Architecture and Off Architecture, all based in France, which plans the conversion of one of the viaducts on a recently bypassed section of an expressway into vertical homes.
Four Acknowledgement prizes were given to highly innovative, but more pragmatic build solutions and material research. [Aside from the Low2No project (see above),] they "were allocated […] to German firms Barkow Leibinger Architects, Schlaich Bergermann und Partner, and TRANSSOLAR Energietechnik for their collaboration on low-cost apartments in Hamburg that use innovative techniques and materials including pre-fabricated lightweight-concrete elements with recycled foamed glass as an internal aggregate.
Acknowledgement prizes also went to Dutch architectural offices De Stuurlui Stedenbouw, and Atelier Gras for their cottage garden structure that creates green recreation spaces in dense urban areas, and to a production technology project for fabricating non-repetitive free-form cast-on-site concrete structures using re-usable and digitally-produced wax formwork by Gramazio & Kohler, Architecktur und Digitale Fabrikation, ETH Zurich in Switzerland."