Microsoft survey in 12 countries highlights people's concerns about privacy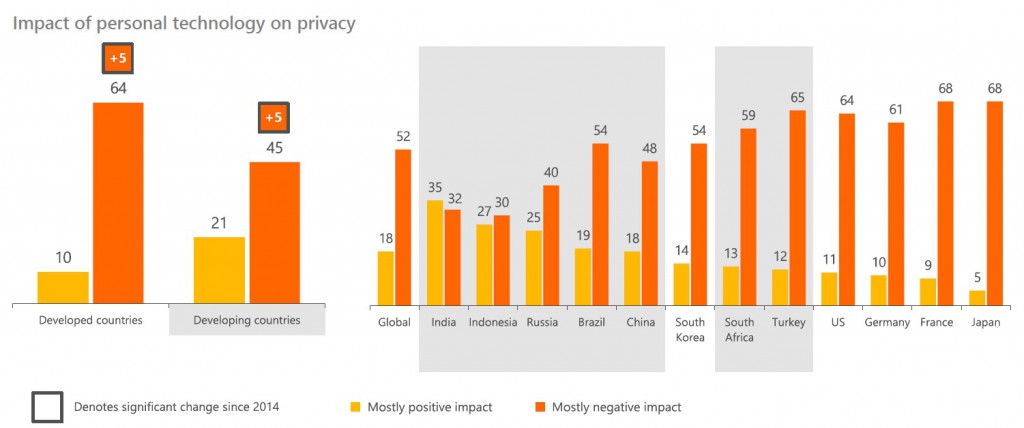 Microsoft's second annual survey (pdf) of Internet users around the world has many obvious insights on the benefits of technology for how people shop, work, learn, and generally get stuff done, but only one real news item: people's huge concern about privacy:
"If there is one persistent concern about personal technology that nearly everybody expresses, it is privacy. In eleven of the twelve countries surveyed, with India the only exception, respondents say that technology's effect on privacy was mostly negative."
And while much is written about the Europeans supposedly being much more concerned about privacy than people in other parts of the world, particularly the United States, these Microsoft research data do not support this at all: Americans viewed the impact of technology slightly more negatively than Germans!
The survey respondents were also seriously concerned about the lack of legal protection:
"Majorities of respondents in every country but India and Indonesia say current legal protections for users of personal technology are insufficient, and only in those two countries do most respondents feel fully aware of the types of personal information collected about them. Majorities of respondents in both developed and developing countries think that the legal rights of Internet users should be governed by the local laws of the country where the users live; that if a foreign government wants information about a person stored in a datacenter in that person's country, they should have to seek permission from the person, not just the government; that police officers should have to get a search warrant to search for personal information on PCs; and that personal information stored in the cloud should be subject to at least the same privacy protections as personal information stored on paper."
Unsurprisingly, this was also the element that media zoomed in on, eagerly reproducing the above graph where orange is negative and yellow is positive. IDG News Service emphasized that "surveys like this one should always be looked at with a healthy dose of scepticism. But there is little doubt that people are wary of how their personal data is used by companies and governments.", while
The research, which was released in advance of the World Economic Forum in Davos, was conducted in five developed countries (France, Germany, Japan, South Korea, and the United States). In total there were 12,000 online interviews, and they were conducted between December 17, 2014 and January 1, 2015 by the global research-based consultancy Penn Schoen Berland.