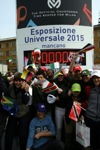 It's all over the Italian press (the winners) and the Turkish press (the losers), and on a small number of international news outlets: Milan will host the 2015 Universal Exposition (a.k.a. "Expo" or "World Fair").
In a day and age when Universal Expositions are no longer the top international events they used to be one hundred years ago, Milan is nevertheless totally excited about the nomination.
I am not yet, but then these events tend to galvanise people and decision makers, and can push things forward quickly. Since Italians are famous for pulling their act together at the very last moment — faced with the prospect of otherwise making a "brutta figura" (a rather poor showing) — I wouldn't underestimate the power of the 2015 Expo either.
World Fairs have over the last decades become platforms for nation branding:
"From Expo '92 in Seville onwards, countries started to use the world expo more widely and more strongly as a platform to improve their national images through their pavilions. Finland, Japan, Canada, France and Spain are cases in point. A large study by Tjaco Walvis called "Expo 2000 Hanover in Numbers" showed that improving national image was the primary participation goal for 73% of the countries at Expo 2000. In a world where a strong national image is a key asset, pavilions became advertising campaigns, and the Expo a vehicle for 'nation branding'. Apart from cultural and symbolic reasons, organizing countries (and the cities and regions hosting them) also utilize the world exposition to brand themselves. According to branding expert Wally Olins, Spain used Expo '92 and the 1992 Summer Olympics in Barcelona in the same year to underline its new position as a modern and democratic country and present itself as a prominent member of the EU and the global community.
The quote above is from Wikipedia, and the current Fair at Zaragoza, Spain is a case in point. I presume the same nation branding thing will happen when Shanghai gets the honour in 2010.
The 2015 Expo will surely be an opportunity to help crystallise a discussion of the future direction of Italy (which is already starting with the Italy 150 celebration in 2011) – and this in itself is a good thing.
Here some lines from the Reuters story on the nomination:
Italy's fashion and financial capital Milan won the race on Monday to host the 2015 Universal Exposition, a welcome victory for a country that has been buffeted by a food scandal and political feuding.

Officials for the Paris-based International Bureau of Exhibitions (BIE) said Milan defeated the western Turkish city of Izmir by 86 votes to 65, dashing Turkish hopes of hosting the world's biggest fair for the first time.