MyThings – Social Networking meets the Internet of Things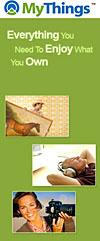 MyThings
(as the name suggests) is an online registry of members' possessions, from jewellery and electronics to cars and boats, writes Joanna Bawa on
Usability News
.
Sign up and gain access to a range of services including valuation, recovery after theft and insurance. Retailers are also signing up to MyThings so each new purchase is automatically added to your MyThings portfolio.

MyThings has a community feel, even though possessions constitute the main trigger point of social interaction. Members are able to swap stories, compare shared interests and offer tips – "did you know your 1966 Chateau Lafite should be drunk before autumn?", and the inclusion of an email-style message system encourages direct person-to-person conversation.

Items can be tagged in the conventional web manner, creating a tag cloud for browsing. Before long, however, the expectation is that items will be tagged before they're bought. The increasing use of barcodes and RFID will become a primary means of entering new purchases into a portfolio. These 'physical hyperlinks' enable objects to become aware of one another, with, for example, scanners able to authenticate valuable items through their tag. Physical tagging would allow a member to read the specification of an item (perhaps even download details to a mobile phone), even if they couldn't touch the item itself. If it later appeared on eBay, it would be easy to authenticate.

"Each portfolio is a powerful expression of a person's status and personality," says Benny Arbel, CEO of MyThings. "Our usability challenge is simplifying the product ownership lifecycle for our members by connecting them with each other, and with services that they value. We see it as social networking with a purpose."

As a social network, MyThings provides an online community for materialists. Add physical tags and you have an early example of a connection between the intangibility of online communities and the increasingly tangible 'internet of things'. By itself, MyThings is straightforward. But viewed as a pivotal point between online communities, emerging technologies and tag-based access to information, it might well prove to be something more.
Let's hope everyone is smart enough to do this anonymously, in order not to provide shopping lists to your local burglars.