New research on the use of tablets in schools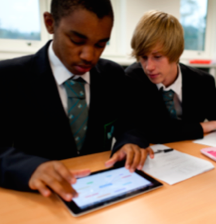 NAACE
NAACE, a UK association of educators, technologists and policy makers who share a vision for the role of technology in advancing education, has published two studies on the role of tablets in secondary school education:
Evolving Pedagogies for Mobile Technology in Schools
A study of how tablets are being used in schools by Naace on behalf of Besa (British Educational Suppliers Association)
January 2014
This project was not a large scale research project but provides an insight into how tablets are being used in school and the direction of travel that pedagogies take within the first year of tablet implementation. Check out the summary of the findings and the full study.
The iPad as a Tool for Education
A study of the introduction of iPads at Longfield Academy, Kent
July 2012
In the first two terms of implementing an iPad programme, Longfield Academy in Kent have noticed a great impact on teaching and learning. The research was carried out on behalf of Naace and supported by 9ine consulting.
TABLETS FOR SCHOOLS
Check also these downloads from Tablets for Schools, a UK charity that presents itself as being "supported by industry leaders in education and technology" and "believes in the transformative effect of tablets on teaching and learning, aiming to share best practice about implementing and using tablets successfully in the classroom."
Stage 3 Research Report
April 2014
This report attempts to quantify some of the findings in the previous reports. The Stage 3 objectives were to examine teacher, student and parent engagement, and impact on pedagogy. The research also measured teacher, student, and parent perception of benefits and drawbacks, in addition to reviewing the process of introducing tablets, and summarising the global picture of the use of educational tablets.
19 case studies on the introduction of one-to-one tablets in UK schools
April 2014
In spring 2013, Family Kids and Youth identified a total of 24 secondary schools across the UK that had introduced or were in the process of introducing one-to-one Tablets. These included the schools from Stage 1 and Stage 2 of the research. Twenty-one of these schools responded to a comprehensive online questionnaire. Twenty schools allowed our team of researchers to visit them and during these visits interviews were carried out with Leadership and ethnographic observation was carried out in classes that were using one-to-one Tablets. From these interviews and observations, and the completed questionnaires, as well as on-going dialogue with the schools, nineteen individual case studies have been compiled.
Updated Literature Review on the Use of Tablets in Education
14 April 2014
An increasing number of publications have debated the effects these devices have on teachers and pupils. The following report, carried out by independent researchers Family, Kids & Youth, updates the findings from previous publications and discusses the findings from recent studies, as well as the limitations of the research to date. It also discusses how tablets in particular contribute to learning benefits as well as the issues surrounding tablet use in different educational contexts ranging from nurseries to universities.