Project Glass, new disruptive interface concept by Google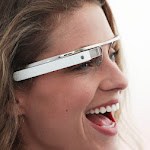 Google released a YouTube video Wednesday showing the everyday uses of "Project Glass," wrap-around virtual reality glasses with all the qualities of a smartphone – and much more.
"Google has once again unveiled a project mock-up that, if realized, would turn the technology industry on its head. This time, it's Project Glass, wrap-around glasses that display reminders, the weather, messages, and more – right in front of the user's eyes."
Articles: New York Times | Christian Science Monitor
In a reflection on TechCrunch, Josh Constine asks how this will disrupt Apple and Facebook, and what should they do to defend themselves.