[Report] Leading Business by Design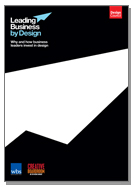 Design is now firmly on the business agenda. No longer the cherry on the cake for high-end goods and luxury brands, over the past decade it has gained relevance for the way organisations are structured, how they operate and how they think. An increasing number are starting
to use design strategically – to differentiate themselves from the competition, to launch new brands and strengthen existing ones, and to inform strategic choices. There is already considerable evidence for design acting as a mechanism for business growth and innovation.
This research, conducted by Warwick Business School on behalf of UK Design Council, aims to build on such evidence by asking business leaders of various organisations how they use design, and how they benefit from it.
Interviews with business leaders from world–class companies like Barclays, Diageo, Virgin Atlantic and Herman Miller led to three main findings:
Design is customer-centred – Benefit is greatest when design is intimately related to solving problems, especially customers' problems.
Design is most powerful when culturally embedded – It works best when it has strong support in the organisation, especially from senior management.
Design can add value to any organisation – Design can benefit manufacturing and service-based organisations, small, medium or large.
The report's eight recommendations for how companies can maximise the impact of design:
Don't limit the context in which design can operate
Use design to differentiate
Integrate design and branding
Introduce a design process
Trust and support your design talent
Embed design in your organisational culture
Design your work environment
Don't let the designer's role be a straitjacket