Report: People Powered Health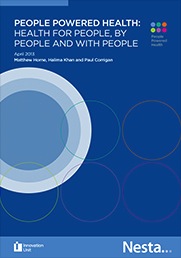 People Powered Health: Health For People, By People and With People
by Matthew Horne, Halima Khan and Paul Corrigan
April 2013 – 58 pages
NESTA, UK
This report, and the People Powered Health programme it's part of, makes the case for changing the ways in which healthcare is organised. It shows how healthcare can better combine the very best scientific and clinical knowledge with the expertise and commitment of patients themselves.
The People Powered Health approach advocates changing three vital components of the current system:
Changing consultations to create purposeful, structured conversations that combine clinical expertise with patient-driven goals of well-being and which connect to interventions that change behaviour and build networks of support.
Commissioning new services that provide 'more than medicine' to complement clinical care by supporting long term behaviour change, improving well-being and building social networks of support. Services are co-designed to configure and commission services around patients' needs.
Co-designing pathways between patients and professionals to focus on long-term outcomes, recovery and prevention. These pathways include services commissioned from a range of providers including the voluntary and community sector.