Roger Martin on designing decisions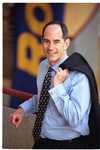 In this interview,
Roger Martin
, dean of the
Rotman School of Management
(the University of Toronto's business school) explains why managers need to learn how to think like designers, and why all design is really decision design.
The interview was published on the website of Strategy 06, the IIT Institute of Design's Strategy Conference that took place in Chicago on 17 and 18 May 2006. The international executive forum addressed how businesses can use design to explore emerging opportunities, solve complex problems and achieve lasting strategic advantage.
The conference has its own blog. Readers can also access other interviews and download conference presentations.
(Click here for other Putting People First posts on Roger Martin.)