Samsung's DigitAll brand magazine on greatness in the digital era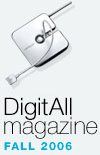 The fall edition of
Samsung's DigitAll magazine
explores greatness in the digital era.
To understand the topic better, Greg Lindsay portrays five business leaders of companies like Ingenio, Zopa, Honest Tea, Cleantech and Firefox.
Business writer Nicholas G. Carr (blog) meanwhile explores the topic conceptually, and investigates the claim that in the Age of the Internet, greatness in business is no longer "an expression of the aptitudes of individual persons or organisations, but a consequence of the connections between them". Carr claims there is a "fundamental flaw in the thinking of those who believe greatness emerges naturally from the interconnections of the crowd or network", the so-called "wisdom of the crowd".
Also nice is a story by Observer architecture critic Deyan Sudjic on how designer Ross Lovegrove "turns technology into the experience of sense".